Snake print is having a bit of a moment right now and I think I'm ready for it. I've always been a leopard print girl but I think now is the time to make a move towards snake print since it keeps sneakily making it way into my ASOS wishlist!
So I've gone through my go to fashion sites to pick out some of my fave options in the snake print trend and maybe this might give some of you some inspo on how to work snake print…
I LOVE THIS JACKET! Ok, so it's pretty out there and might potentially look a little scary to wear, but I definitely think it can easily be styled down. For a casual look I'd probably style it in a very similar way to the picture but with some fresh white trainers. For a slightly smarter look, I'd perhaps pair it with a pair of black skinnies and maybe a cream turtle neck. Maybe some chunky black boots or even heels for a night out.
This skirt is a pretty good option if you've gone through the leopard midi skirt phase and might now want something a little different. It's just a pretty good option if you want to try something new in general! I think the split in the middle and the style of the print is very flattering. It can work casually with trainers or be dressed up with heels. I love the way the model is styled with a bright chunky jumper, but you can easily tone it down with a black or neutral coloured jumper. For a dressier look, adding a silky blouse and a leather jacket takes it from day to night.
Not gonna lie, I just bought these. They were reduced to £20.99 on the New Look website and had just restocked in my size, so I decided it was meant to be. I've got a pair of black boots which I absolutely love and wear to death, but I really wanted a slightly different kind of boot to add an edge to my outfit. I'm just praying these fit and are comfortable! I've seen several style instagrammers I follow wearing these and they look so good and so much more expensive, so I reckon these are a real bargain.
Such groovy trousers! I cannot stress enough, like the other options I've included here, how easy it is to dress these up or down. This shade of snake print goes with black, cream, white, grey or even bright block colours. I reckon they'd be seriously versatile trousers and I love the shape of them; I think they'd be very flattering.
I've also included these blue shiny leggings from Zara below, as some might find the darker colour a little easier to wear or less scary! Plus, they're a little different from the standard snake print.
Yeah, so this skirt at this price is pretty unattainable. But I love it and I think it's extremely stylish so I thought I'd include it. I've seen the skirt in store in And Other Stories and it's beautifully structured and cut so really worth the price.
Here are a few more affordable mini snake print skirts that I really rate this season:
This skirt comes in 3 colours: this daring red, grey and green. I think it's perfect for a night out with heeled boots and a cute black top. Love the biker style zips!

Similar vibes to the Bershka skirt, but a little more toned down and at an even better price point! Definitely tempted by this one.
Soooo, if snake print clothing is a bit too much for you still, I've included a couple of accessories that are a little more understated!
Bershka is nailing the snake print this season. Absolutely LOVE this little belt bag, especially how it combines the massive belt bag trend and snake print. It's really cute, small enough not to be obnoxious and a fab price! I think it would go with everything and add a cool girl touch to any outfit.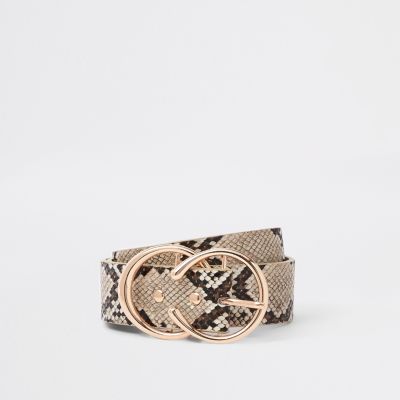 I think this belt is the easiest way to add a subtle touch of snake print to your outfit. It can definitely jazz up some black jeans for a night out or just make your everyday outfit a little bit more exciting. The double circle buckle detail is really glam and is giving me those Gucci vibes!
Okay, think I've exhausted snake print for today! Hope you like my picks 🙂
Liv x
I hereby declare that I do not own the rights to these pictures. All rights belong to the owner. No copyright infringement intended.