I always set myself monthly wish lists – I don't buy all the items on there but it's good motivation whilst at work!
It doesn't help that I currently work full-time as an assistant in a luxury fashion and interior design boutique, so I'm constantly surrounding by and thinking about clothes. The problem is the cheapest piece of clothing at the boutique starts at around £90…
Let's just say I've been developing rather expensive taste.
So these are few of the things I'm loving this month:
Rolla's Original Straight Jean with Turn Up Hems
Ohh, I LOVE these jeans. They are, quite literally, perfect. The wash colour is spot on, the high waist is essential and the turns up give me life.  In my opinion, they're ideal jean option aside from black or darker jeans and just right to wear with bright white trainers. Literally anything could work on the top half. However, they are undoubtedly very pricey for a pair of jeans and I'm not sure my current financial situation can justify that much on these beauties.
https://www.asos.com/rollas/rollas-original-straight-jean-with-turn-up-hems/prd/9849588?CTARef=Saved%20Items%20Image
RAID Jack Black Studded Buckle Detail Flat Boots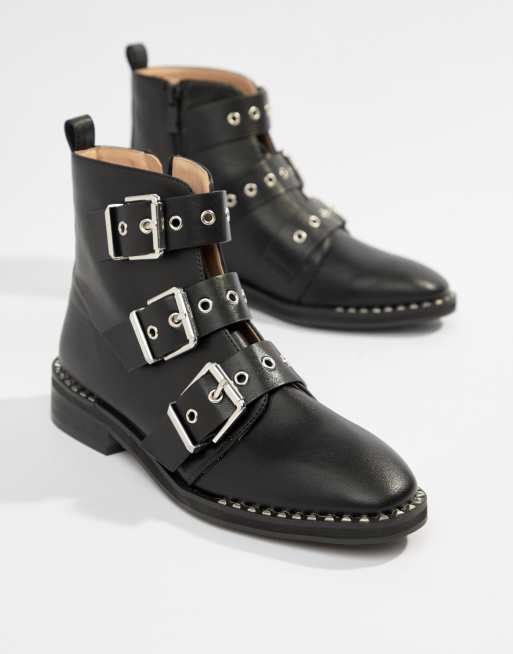 I will admit that these shoes have made it off the wish list and are currently on their way to me. I'm very excited. Obviously, the black boot is a key staple for anyone's  autumn/winter wardrobe. These will go perfectly (hopefully) with jeans, skirts and even dresses for seamless transitional dressing. I've always had plain suede Chelsea boots so I'm venturing out of my comfort zone with these biker style ones. These are the sort of boots to make you feel pretty cool. They're fab and an excellent dupe for the £89 Topshop version, as they're under £40.
https://www.asos.com/raid/raid-jack-black-studded-buckle-detail-flat-boots/prd/10013589
ZARA Checked Double-Breasted Coat
Grey checked coats are definitely on trend right now. I've seen them in pretty much every autumn essentials haul or autumn look book online. I  love this one from Zara, but certainly a little pricey at £79.99. I'm sure there are more out there at cheaper price points but I love Zara. The fit always works for me and the quality is fantastic, so it's definitely worth investing in.
I have found a cheaper New Look option:
New Look Petite tailored coat in check
This one is a slightly different colour, more of brown check with a reddish/burgundy tone running through it. I think it's lovely for less than £40 and the warmer colours might suit different skin tones compared to the grey Zara coat.
I hope you enjoyed the staple pieces I've chosen for October and a little insight into my style. More coming soon!
Liv x